The biggest lungs in Britain?
Published online Friday 9th June 2006

Quadruple Olympic champion oarsman Matthew Pinsent had one big advantage in his chosen endurance sport: massive lungs. In 2004 his 8.5 litre capacity was the biggest recorded in a British athlete. Last summer Cambridge Blue and international Josh West pipped him at 8.9 litres, but now that mark has been smashed to pieces. Move over Pinsent, here comes Peter Reed.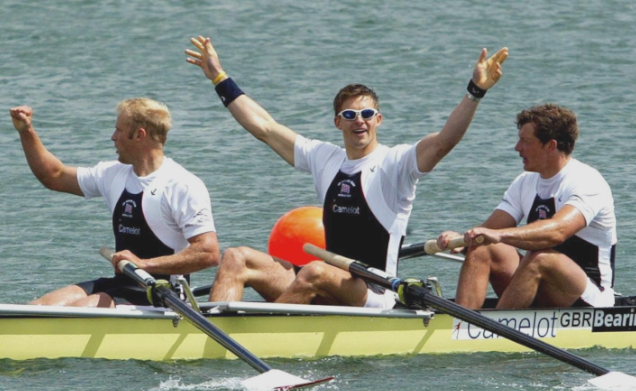 Pete Reed (centre) dwarfing crewmates Alex Partridge and Steve Williams after winning his first World Cup gold medal at Eton in May 2005.
Picture copyright Peter Spurrier.
Click on image to see a larger version.
After being spotted by coach Fred Smallbone and learning to row at the University of West of England, Reed first shot to prominence as a graduate in the Oxford Blue Boat, then trialled his way into the top British four and had an unbeaten season to become world champion last summer. A routine physiological test at the English Institute of Sport last month confirmed that Reed, at 6 foot 6 an inch taller than Pinsent, has 9.38-litre lungs. Practically twice those of a 'normal' human being and 2-3 litres more than most top rowers. "It's cool and everybody else in the squad was very jealous", he said on Wednesday. "But it must mean I have very weak muscles or I'd be beating them all by miles!"
Typical modesty from the naval sub-lieutenant who made Oxford headlines last November saving a pensioner from a house fire he happened to notice while driving home. In fact there may be another reason why Reed, though securely in the top rank of British rowers, feels he could do better. At the same test this May, doctors discovered that he is a borderline asthmatic.
"It's just a wheeze, and feeling out of breath at the end of races, the same way everyone feels", Reed explained. The clue was an 11% drop in peak flow - another breathing measurement - after doing a hard training piece. Anything more than a 10% drop and you officially have asthma.
"It's nothing serious, but it means I can get an exemption to use an inhaler, so I might as well. I've had one for a week, and now my lungs feel very deep from beginning to end of a session. I'm taking just one breath per stroke even flat out at high rates". Since the diagnosis the squad has completed a standard 30-minute erg test. "I got the same score as before, but it felt ten times easier, so I can push on next time", said Reed. Perhaps for the first time ever he is using his huge lungs to their full effect, which could revolutionise his scores over the next few months.
To put it into context, although experts seem to vary in how they measure and cite the figures, typically total lung capacity (Reed's 9.38 litres) is said to be 4-6 litres for an average human. Age, height/build and genetics all play a part in determining it. There is talk of Australian free-diver Sebastian Murat having 11-litre lungs, but even top cyclists - and the other members of the British coxless four - generally come in around 6-7 litres and very rarely above 8. How much they can use of that capacity is also important to their success, and peak flow is a similarly crucial statistic.
What next for the 24-year-old who hasn't lost a single race since November 2004? Although others in the squad have a longer history in top-flight rowing, right now Reed and his pairs partner Andrew Triggs Hodge are the most continuously successful men in Britain. On Tuesday he travels to Poland with Hodge, Alex Partridge and Steve Williams for the second Rowing World Cup regatta, a prelude to the August World Championships in Eton. In Munich at the end of May they were hounded to the line by the Dutch, who are out for blood after losing last summer, but also a surprise German four who speared through the field to finish second only to Britain. Now Philipp Stueer and Berndt Heidicker, who rowed the German pair to an inglorious B final in Munich, are back in the coxless four they last rowed in 2004. With Gregor Hauffe and Toni Seifert from the Munich line-up this puts half the world champion (and world record) 2002 quartet with half the crew which surprised everyone a fortnight ago, and fireworks are likely even with the Dutch absent from Poland. Reed just might need his increased lung-power this time. In one of his and the British crew's favourite phrases - "Bring it on".
---
Addendum: 23rd November 2006. Rachel Quarrell writes....: "I have just spoken to Pete again, at a national squad singles trial at Caversham. He told me that he had recently been re-tested by the Olympic Institute. Perhaps through being more used to the system of measurement, perhaps through training, it appears that his total lung capacity has increased and is now a staggering 11.68 litres."
© Copyright Rachel Quarrell 2006.
Not to be reproduced in any form without express permission.