Written by Tom Wigley, Windsor, UK, August 2005
Three Windsor Boys' School students, who have just received their A-level grades, have sculled down the Thames from Lechlade to Teddington Lock for the second time. They set off from St. John's Lock at Lechlade on Sunday morning, August 21st, and arrived at Teddington at 16:15 the following Thursday having covered an arm-wrenching 200 Km (that's 125 miles in "old money").
Laurence Birdsey and Robert Jeffery had previously gone the distance last August but it was the first time for their mate Gareth Jones. All three sculled together competitively at school and they have a cabinet full of pots and gongs between them.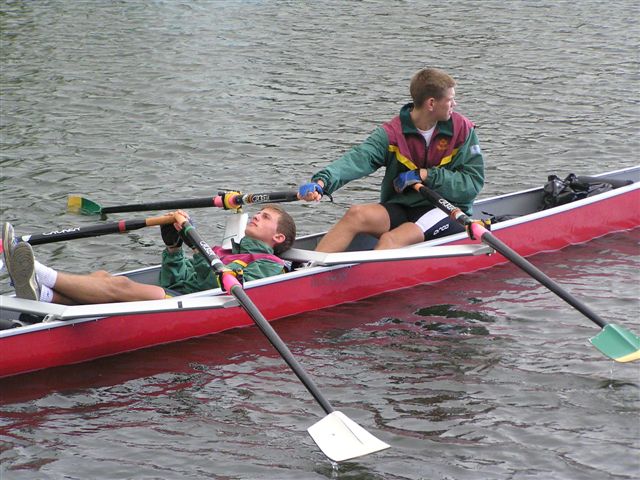 Laurence and Robert raised a good deal of money last year to erect a bench outside the school Boat House in memory of fellow oarsman and student Hugh Wigley who died in February 2004.
They reached Pinkhill Lock near Eynsham on the first day. By Monday night they were enjoying a pint at the Isis Tavern by Iffley Lock at Oxford and by Tuesday they had reached Pangbourne. The weather on Wednesday was shocking but it was to become their longest day. The damp and bedraggled trio, in the best Boys' School Boat Club tradition, made a big push to complete the 60Km from Pangbourne down to Windsor. The last day, Thursday, was a paddle in the park by comparison as they set off from the school boat house to finish at historic Teddington Lock where the Thames becomes tidal.
The three shared a double-scull boat loaned by Hudson Boats and Gareth's own single scull built by local firm Eton Racing Boats.
What next for the Windsor Three? Well, before university, Laurence is off to Tasmania for a year to be a school rowing coach. Gareth is going to Exeter University and Robert is off to Oxford Brookes. The lads were unavailable to comment on their rowing plans for August next year so let's wait and see if they will make it a hat-trick!
Tom Wigley, Windsor