THIS MONTH'S CAFE SCIENTIFIQUE
Tuesday 12th September 2017 - Dr Steven Cutts
New technologies in joint replacement
Dr Steven Cutts, an experienced Cafe speaker and author, will discuss the ins and outs of joint replacement surgeries and technology, including what he describes as "the metal on metal fiasco", hip resurfacing, ceramic joints, oxinium, and other materials. Are any of the new materials and ideas actually working?
The problem of joint replacements is not just faced by older patients, but can also hit athletes, and younger patients with arthritis or infections. as an area which merges medicine, material science, immunology and engineering, it's a complex science and one which affects many families.
AND AFTER THAT
Future dates:
Tuesday 10th October 2017 - Dr Maria Patricio - Blindness and treatments for eye defects
Tuesday 14th November 2017 - tbc - tbc
Tuesday 12th December 2017 - (probably) Ron Colyer - Alternative energy sources
Tuesday 9th January 2018 - Dr Aseem Malhotra - The truth about fat and sugar (full title tbc)
Other dates

Tuesday 13th February 2018
Tuesday 13th March 2018
Tuesday 10th April 2018
Tuesday 8th May 2018
Tuesday 12th June 2018
Tuesday 10th July 2018

The Oxford Cafe is on the second Tuesday of each month.
We take a break in August each year.
If you are not already on our mailing list for updates, please see the foot of this page for how to subscribe.
VISITING THE CAFE
For full details of how to find the centre including pictures, parking suggestions and local transport links, please visit the Museum Cafe details page on this website.

The Cafe starts at 7:30pm, with doors opening at 7pm, and it is usually finished by around 9pm.

There is no formal entry fee, but a hat is passed round during the break between talk and discussion, and all contributions are welcome and help towards providing the facilities and speakers.
SPONSOR AND FACILITIES

We are very grateful for the help given by the Oxford University Museum of Natural History and its staff, for allowing us to use the visitor centre for our events, and giving us excellent practical support on Cafe nights. The help of Chris Jarvis, education coordinator, and the occasional lending of exhibits and items from the collection, is particularly appreciated.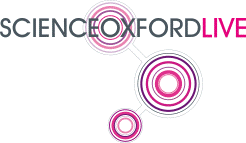 We are also very grateful for the help of Science Oxford Live, which housed the Cafe for two years and continue to support us. Visit the SO website, the SO Twitter feed or sign up to the SO email newsletter.