THIS MONTH'S CAFE SCIENTIFIQUE
Tuesday 14th February 2017 - Nicole Gilroy and Andrew Honey
Science and the love of the book - parchments, paper and bindings
In a departure from the usual venue and format, the Cafe Scientifique briefly joins forces with the Bodleian Library to hold an overlap event, a joint celebration of St Valentine's Day and the science of books. The Cafe will move for one month to the Blackwell Hall at the Weston Library Cafe, with all as usual welcome. Conservation experts Nicole Gilroy and Andrew Honey are focusing on the materials from which books are made: paper, parchment, and the various boards and bindings which form the covers. There will be exhibits from the Bodleian collection to look at during the break.
Time: doors open 7pm as usual (not before, due to security), talk starts at 7:30pm, and the evening will finish just before 9pm. Refreshments provided as normal but please this month do not bring your own as we have made an arrangement with the in-house caterers. Visitors are advised that they will not be able to be in the cafe, shop or galleries between 5pm and 7pm, though those with reader's privileges could stay up in the reading rooms above until 7pm.
There is no need for Cafe Sci members to book tickets, though the Bodleian has been getting their regular attendees to sign up. We hope to have enough flexibility to accommodate everyone who wants to come.

AND AFTER THAT
Future dates:
Tuesday 14th March 2017 - Professor Sir Muir Gray - The threat of lifestyle diseases
Tuesday 11th April 2017 - Jason Taylor - How we make decisions
Tuesday 9th May 2017 - Dr Jennifer Whitfield - Genomics and the 100,000 Genomes Project
(and it continues on the second Tuesday of each month - see Dates page).
We take a break in August each year and will be back in September.
If you are not already on our mailing list for updates, please see the foot of this page for how to subscribe.
VISITING THE CAFE
For full details of how to find the centre including pictures, parking suggestions and local transport links, please visit the Museum Cafe details page on this website.

The Cafe starts at 7:30pm, with doors opening at 7pm, and it is usually finished by around 9pm.

There is no formal entry fee, but a hat is passed round during the break between talk and discussion, and all contributions are welcome and help towards providing the facilities and speakers.
SPONSOR AND FACILITIES

We are very grateful for the help given by the Oxford University Museum of Natural History and its staff, for allowing us to use the visitor centre for our events, and giving us excellent practical support on Cafe nights. The help of Chris Jarvis, education coordinator, and the occasional lending of exhibits and items from the collection, is particularly appreciated.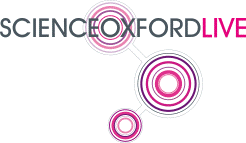 We are also very grateful for the help of Science Oxford Live, which housed the Cafe for two years and continue to support us. Visit the SO website, the SO Twitter feed or sign up to the SO email newsletter.