The relaxing way to chat about science in Oxford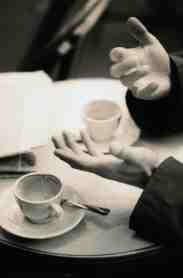 The Cafe Scientifique is a successful UK community the idea for which was originally imported from France. The Oxford Cafe was the fourth to be started and there are now dozens of Cafes Scientifiques across the British Isles, while the concept is also now spreading widely overseas. The point of the Cafe is to provide a public forum in which scientific ideas can be discussed informally involving scientists and non-scientists alike, aiming to inform, to entertain, and to provoke debate.
The Oxford Cafe Sci meets on the second Tuesday of each month except August, all are welcome and no scientific background is required. Visit the FAQ page for more information if you have never been to a Cafe event before.
The links on the left of this page give more details.
OUR VENUE IS THE OXFORD UNIVERSITY MUSEUM ON PARKS ROAD
See the Cafe audio page for streaming audio files of many of the recent Cafe talks. These are usually the introductory talks, although several recent discussions have been recorded too. Some talks have associated image or presentation files linked. As a matter of policy audio files are not published straight away, but a minimum of a month later.
THIS MONTH'S CAFE SCIENTIFIQUE

Tuesday 8th May 2018 - Professor Marcus Munafo

Free to choose? How companies shape our behaviour

Most of us drink or eat than we should, and many people still smoke. It's often argued that these are adult choices, but the extent to which the companies that manufacture these products influence our behaviour is under-appreciated.

From the design of the products themselves, to how they are introduced into popular culture, Professor Munafo will describe the ways in which our choices may not be so free after all.

AND AFTER THAT

Future dates:

Tuesday 12th June 2018 - Professor Graham MacGregor - Salt: the forgotten killer
Tuesday 10th July 2018 - Professor Laurence Harwood - Turning nuclear power green

We take a break in August each year and will be back in September.

If you are not already on our mailing list for updates, please see the foot of this page for how to subscribe.

VISITING THE CAFE

For full details of how to find the centre including pictures, parking suggestions and local transport links, please visit the Museum Cafe details page on this website.

The Cafe starts at 7:30pm, with doors opening at 7pm, and it is usually finished by around 9pm.

There is no formal entry fee, but a hat is passed round during the break between talk and discussion, and all contributions are welcome and help towards providing the facilities and speakers.

SPONSOR AND FACILITIES

We are very grateful for the help given by the Oxford University Museum of Natural History and its staff, for allowing us to use the visitor centre for our events, and giving us excellent practical support on Cafe nights. The help of Chris Jarvis, education coordinator, and the occasional lending of exhibits and items from the collection, is particularly appreciated.

We are also very grateful for the help of Science Oxford Live, which housed the Cafe for two years and continue to support us. Visit the SO website, the SO Twitter feed or sign up to the SO email newsletter.

OxCafeSci on Twitter - jump to @oxcafesci

Mailing list - The OxCafeSci mailing list sends out announcements about speakers and events. It allows automatic joining. To subscribe to the Cafe mailing list please send an email from the address you want to use, to cafesci-subscribe@maillist.ox.ac.uk. To unsubscribe, use cafesci-unsubscribe@maillist.ox.ac.uk. To use other addresses please refer to the EZMLM users' guide.