The relaxing way to chat about science in Oxford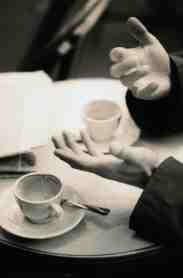 The Cafe Scientifique is a successful UK community the idea for which was originally imported from France. The Oxford Cafe was the fourth to be started and there are now dozens of Cafes Scientifiques across the British Isles, while the concept is also now spreading widely overseas. The point of the Cafe is to provide a public forum in which scientific ideas can be discussed informally involving scientists and non-scientists alike, aiming to inform, to entertain, and to provoke debate.
The Oxford Cafe Sci meets on the second Tuesday of each month except August, all are welcome and no scientific background is required. Visit the FAQ page for more information if you have never been to a Cafe event before.
The links on the left of this page give more details.
OUR VENUE IS THE OXFORD UNIVERSITY MUSEUM ON PARKS ROAD
See the Cafe audio page for streaming audio files of many of the recent Cafe talks. These are usually the introductory talks, although several recent discussions have been recorded too. Some talks have associated image or presentation files linked. As a matter of policy audio files are not published straight away, but a minimum of a month and often several months later.
THIS MONTH'S CAFE SCIENTIFIQUE

Tuesday 14th July 2020 - Dr Jeremy Howick

Contagious kindness and herd instincts

What makes us behave the way we do? What makes everyone stockpile in a pandemic, follow others' examples - good or bad - or join in with a community effort to look after the vulnerable? Dr Jeremy Howick looks at the methods behind our collective behaviours.

Dr Howick is a research fellow at the Centre for Evidence-Based Medicine at the University of Oxford. He has training both as a clinical epidemiologist and a philosopher of science, and writes a regular newsletter on wellbeing. He is the author of Doctor You: revealing the science of self-healing" (Amazon link - other booksellers are available).

AND LATER

Future dates:

Tuesday 8th September 2020
Tuesday 13th October 2020
Tuesday 10th November 2020
Tuesday 8th December 2020

We hope at some point to be able to resume real-life meetings again, but until further notice all meetings are virtual, on Zoom.

During the CoVid-19 crisis our venue is closed and all in-person Oxford Cafes Scientifiques have been suspended. We are holding them online: please see below left for full details.

Events will still open the online doors at 7pm, with half an hour for people to get themselves connected, chat online by message or voice if they want to, and settle down with drinks and nibbles as usual. We regret that the Cafe is unable to provide refreshments directly to the audience..... The talk will start at 7:30pm, with our customary short break after it finishes, so that we can all find more refreshments before starting the discussion via the chat. We will aim to finish the discussion at approx 9pm as normal.

We take a break in August each year and will be back in September.

If you are not already on our mailing list for updates, please see the foot of this page for how to subscribe. During the coronavirus epidemic the mailing list will be the only place where meeting ID codes and passwords are issued.

VISITING THE CAFE ONLINE

During the epidemic we are holding the Cafe online.
We will where possible hold Cafe evenings using Zoom, which needs only a browser and no registration (though many people may choose to download the app instead). For details of how to use this software if you have never done so, please see this document which explains how to, and also gives some details of how to find the various settings while you are in a meeting.

The Zoom Meeting ID will be sent out only via the mailing list (see below) and there will be a limit of 100 people total.

On the day of the meeting a private password for it will be circulated at about 2pm, again via the mailing list. Please do not give this to anyone who might misuse or publicise it. Thank you.

SPONSOR AND FACILITIES

We are very grateful for the help given by the Oxford University Museum of Natural History and its staff, for allowing us to use the visitor centre for our events, and giving us excellent practical support on Cafe nights. The help of Chris Jarvis, education coordinator, and the occasional lending of exhibits and items from the collection, is particularly appreciated.


Online donations
While we are unable to collect donations in the notorious Oxford Cafe Sci black hat, those who wish to support the enterprise are welcome to do so online by donating via https://paypal.me/CafeSci on Paypal. Please note that since we will not be incurring our usual speaker and meeting expenses, donations raised this way will go towards paying for the Zoom Pro subscription, and building a fighting fund to be able to invite speakers from more distant locations once we are all able to travel and meet again. There is absolutely no obligation whatsoever to donate as we are not currently losing money, but all gifts are greatly appreciated.

OxCafeSci on Twitter - jump to @oxcafesci

Mailing list - The OxCafeSci mailing list sends out announcements about speakers and events. It allows automatic joining. To subscribe to the Cafe mailing list please send an email from the address you want to use, to cafesci-subscribe@maillist.ox.ac.uk. To unsubscribe, use cafesci-unsubscribe@maillist.ox.ac.uk. To use other addresses please refer to the EZMLM users' guide.